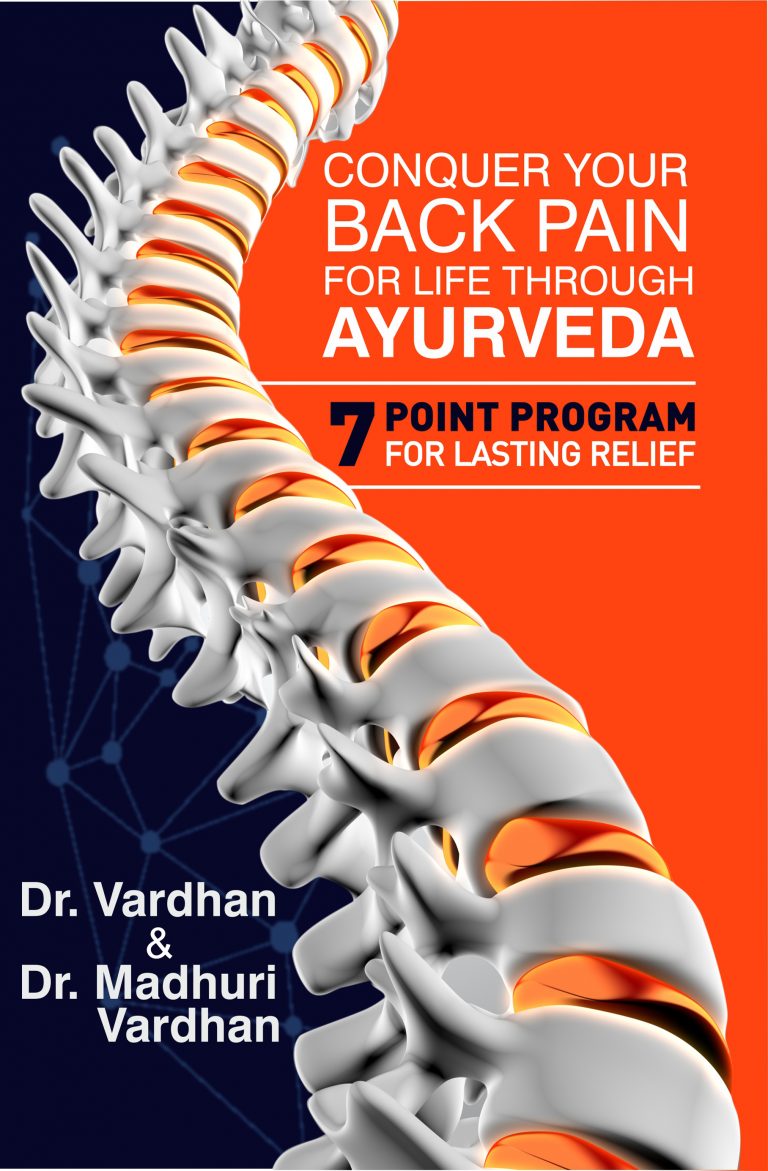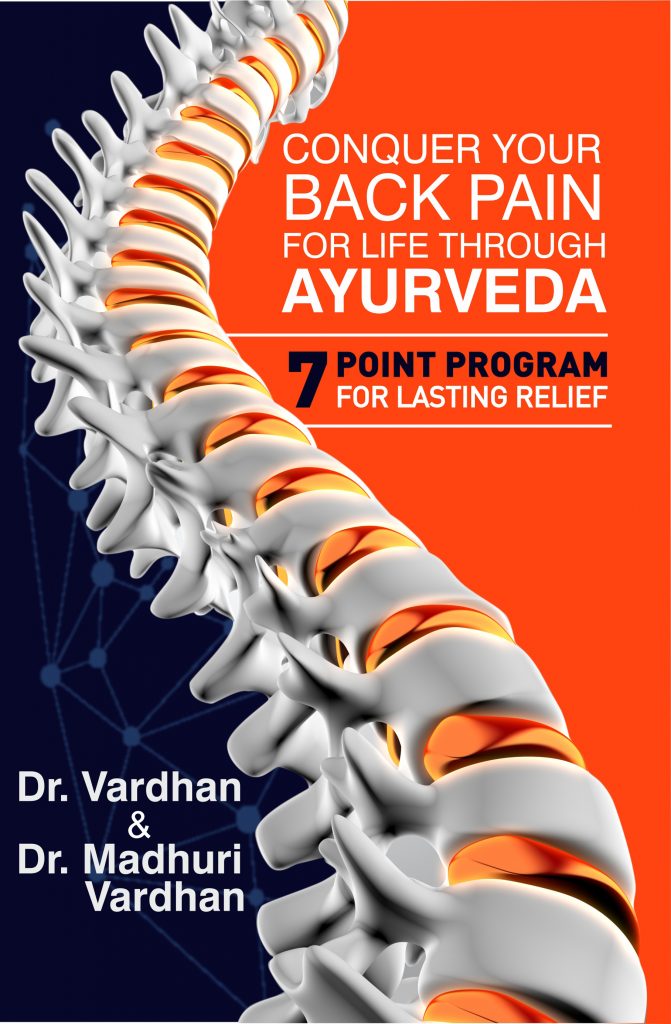 Dr. Kranthi R Vardhan, BAMS; MD (Ayu); Ph. D; MS (C&P) & Dr Madhuri Vardhan BAMS; MD (Ayu); Ph. D have spent last 21 years developing holistic, noninvasive treatments for low back pain. They have established VARDHAN AYURVEDA HOSPITAL at Hyderabad in 1999 which is now extended to 7 branches across AP & TS and are providing high quality, personalized, compassionate & Purest hands of Ayurveda.
They have reinvented the Concept of MERU CHIKITSATM – Ancient Ayurveda Spine & Neuro Therapy – their powerful techniques have helped more than 5 Lakh Back Pain Patients to overcome debilitating back pain that routine therapies have failed to heal & thus avoided 2 Lakh + Surgeries till date.
Published more than 5000 articles in Various News Papers, delivered many Lectures at various platforms, delivered 3000 Health Talks on Various health problems in all the popular TV Channels; voted as No 1 Doctor among 80,000 Ayurvedic Doctors in India in Ayurveda Consultants.com for giving genuine, best & appropriate answers in all the discussions.
They are very Versatile Ayurvedic Physicians, Renowned Academicians, Dedicated Researchers, Esteemed Scholars, Excellent Orators & Proactive Thinkers in the field of Ayurveda.
They are already established and well known in Hyderabad, Telangana, Andhra Pradesh & India offering & helping people with all sorts of medical or health problems successfully. They have put their vast knowledge to offer solutions to modern health problems effectively & assert that they will continue to perceive Ayurveda throughout their lives.
They are the recipients of more than 45 prestigious Awards, Medals and Accolades for the services rendered in the field of Ayurveda.
To learn more about them & Vardhan Ayurveda Hospital, visit –
What made us write this book?
The human spine, the most elaborate & unique mechanical structure is a marvel of creation. It is often ignored, abused, and taken for granted until back pain brings the spine to one's awareness. Back pain can be anything from a simple muscle catch to complicated disc problems. Life so graceful before turns into misery, torture & crippled if something goes wrong in the spine.
Almost 8 out of 10 suffer from acute back pain at least once in their lifetime. The New Millennial Disease mostly affects the middle-aged – the working group of the country between 25 to 55 years of age. In other words, back pain strikes those in the prime age group.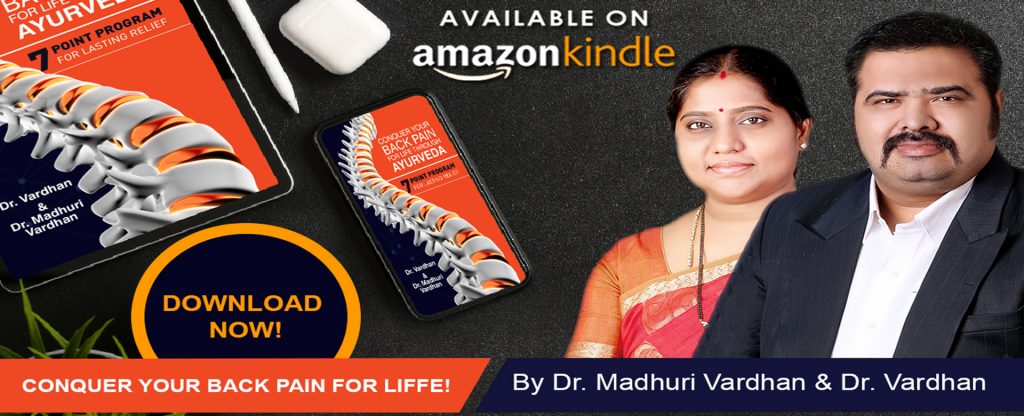 Back pain is a significant cause of absenteeism. Each day, lakhs of persons remain absent from work and cannot fulfill their social responsibilities because of back pain. Back pain sufferers experience profound suffering & compromise on their quality of life. It affects them physically, and mental, psychological, and social well-being is hampered by back pain.
We believe that a doctor should enlighten, educate & edify the patient about his or her backache. A doctor must tell what is wrong with the patient's health and what the diagnosis means, what it can develop into, and what treatments are usually prescribed. Unfortunately, not many doctors have the inclination or time to discuss the same with the patients. Hence, we brought this book out. 
The critical reason for this book's publication is the realization that we should aim more at preventing back pain rather than its treatment. Prevention is always better than cure; and back pain is a disorder that is easy to ward off or prevent. 
We are pretty straightforward and uncomplicated, but we have not withheld essential concepts and facts about back pain just because they seem technical and complicated. So, we gave all the information relevant to the reader's benefit.
Another reason we've written this book is to help you avoid potential risks of undergoing spinal surgeries and how to avoid spinal surgeries through age-old Ayurveda & Meru Chikitsa. We've put this vital information into your hands we hope this book would help you, your families, and all.
This book's focus is to provide specific, useful information about the workings of the human spine and the things that may go wrong to cause pain. It also guides the alleviation and management of such pain.
Do not fall prey to the faulty medical technology & the treatments offered to treat low back pain. They focus on the structural or anatomical explanations of pain and disease whereas Ayurveda's emphasis is mainly on the holistic approach, avoiding surgeries & treating not just the spine but the body, mind, soul and the senses. In this book, we discussed the 7-point program for lasting pain relief. Adopt, Adapt, Adore Ayurveda & Meru ChikitsaTM for a disease-free, healthy spine & life.
Come conquer back pain for life through Ayurveda.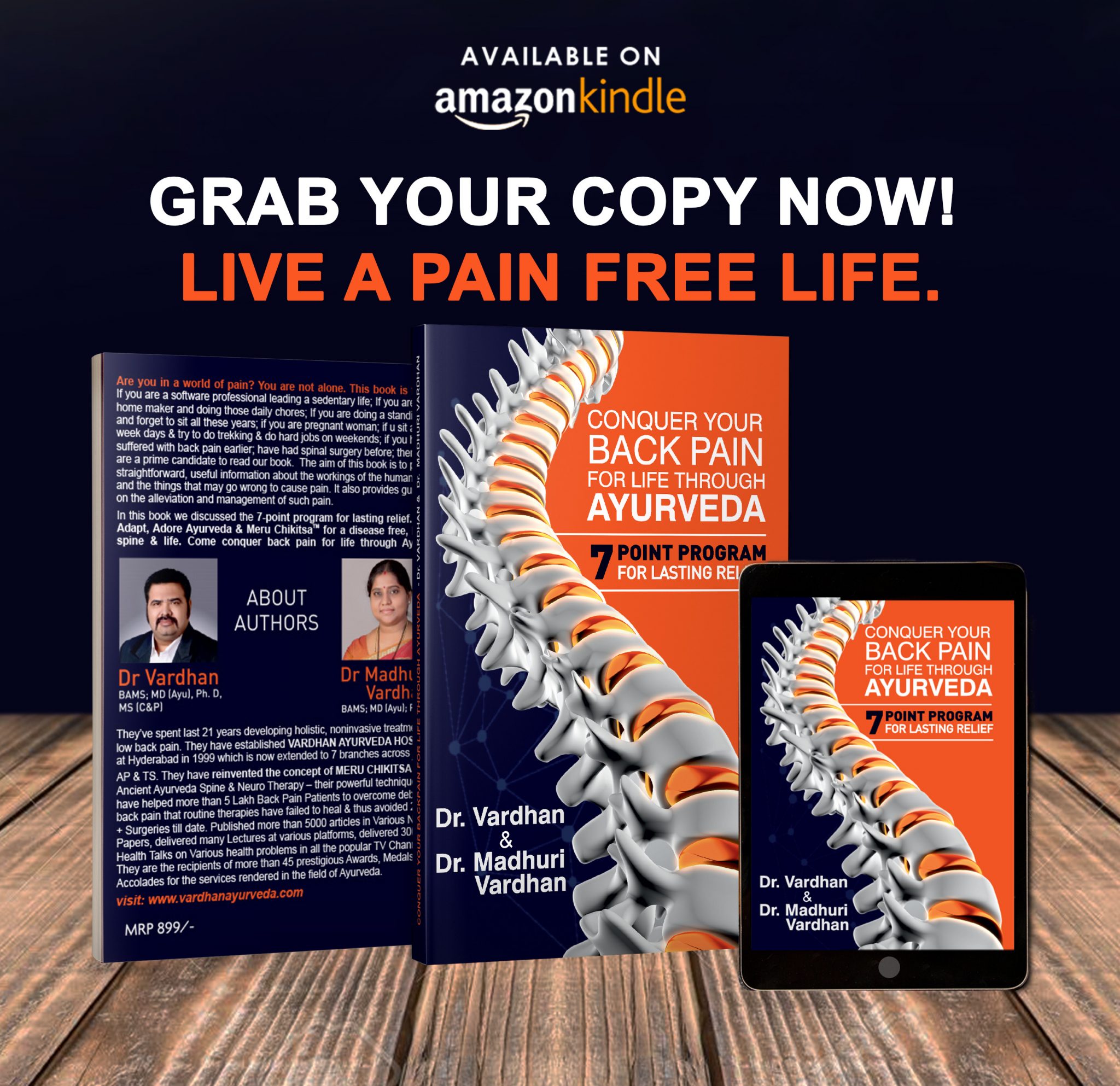 Do you get severe pain down your legs when you wake up in the morning? Are you feeling tired of having discomfort, nagging back pain, numbness, tingling sensation that slows you down physically, mentally & emotionally?
Are you frustrated that you can't move freely that your flexibility seems to be getting worse? It is actually Scary to think that you won't be able to do all the activities you once could. I am worried that you are doomed to 'Surgery' or Worse- 'A Life with Constant Pain.'
After all, all you ever wanted or desired is to be able to play with your children, go to work & still come home at the end of the day without that horrible, torturous & deadly pain. 
You must understand that the strength and flexibility engineered into your back are precisely what makes it prone to problems. Because it has nerves running throughout the spine to the rest of the body, back pains can result in other severe issues like hip complications, leg pains, etc. 
According to National Studies funded by Partners against Pain, at least one person in every household suffers back pain – and that is in America alone, which has at least 44 million homes.
About 80-90% of the Indian population are experiencing back pain at some point in their lives. You did not have experienced back pain yet, be not over joyous, soon you will.
Do you see how serious this is? Not to mention that out of this, at least 78% of them are not satisfied by their Pain Control Medications and are willing to explore other modes of treatment. Over half of this number reports that their pain affects their sleep patterns and mood, while 80% believe that they just have to find a way to live with it.
The good news is, Ayurveda has a different view.
Here, you will learn;
– What back pains are – nature and types of back pains
– Structure & Functionality of the Back
– Causes of Low Back Pain
– Lifestyle Risks
– Medical Treatments for Back Pain
– Ayurveda from Painfulness to Wholeness
– Prevention & Cure of Back Pain -7 Point all-Natural Plan for lasting relief
Yes, capsules and painkilling pills might give you temporary relief from the pain you feel, but they do not solve the core issue and gift us all the side effects after their use. On the other hand, Ayurveda offers you a chance to solve the trigger – plus, there are no side effects, only side benefits.
So, what are you still waiting for!
Read to find out how you can solve your Back-pain problems so you can enjoy all life has to offer.
Where can you buy the book?
We are happy to inform you all that our book "Conquer your Back Pain for Life through Ayurveda" is out for you to Read, Learn Implement & Be Healthy.
Kindle edition is available globally now. We look forward to your support.
Grab your copy today for just $1 and please review our book & Share it in your inner circles.